Plastic Surgery in Modesto - a bit of history
Questions regarding Plastic Surgery in Modesto
Plastic Surgery training facts from the ASPS (American Society of Plastic Surgeons), provided by Dr. Tammy Wu who practices Plastic Surgery in Modesto. She is also a member of the ASPS. The history of plastic surgery in Modesto shows that Dr. Tammy Wu is the second woman plastic surgeon in Modesto, CA.
How many years of surgical training must an ASPS Plastic Surgery Member have (whether in Modesto or not)?
At least five years of general surgery including at least two years of plastic surgery residency training.
What group certifies plastic surgeons in the United States?
American Board of Plastic Surgery.
In General what is Plastic Surgery?
Plastic Surgery is a medical specialty that uses a number of surgical and nonsurgical techniques to change the appearance (cosmetic) and function (reconstruction) of a person's body.
Was there a historically another female plastic surgeon in Modesto before Dr. Tammy Wu?
Mary Ann Piskun, MD - now practicing in Amarillo, Texas. She was formerly a Plastic Surgeon with the Gould Medical Foundation. She was Chairman of the Board at Gould Medical Foundation in 1993-1994. She left Modesto in 1994 and moved to Amarillo, Texas. Her current website: Panhandle Plastic Surgery
Has Dr. Tammy Wu and Dr. Piskun ever met?
They finally met in 2008 at a Mentor Breast Implant meeting for women plastic surgeons.
Dear Tammy, I am happy to give you my input any time. Call on the phone if you want faster response. Say hello to all the surgeons at McHenry Med Group and Gould. Also the people who work at McHenry surgery center and memorial OR. Hope you enjoy Modesto as much as we did. It is a great place to raise children and so accessible to the city. Also great sour dough bread!

MAP
Who is Dr. Tammy Wu?
Board Certified Plastic Surgeon Dr. Tammy Wu, went to Medical School at Brown University, an Ivy League Institution. She graduated as the number one graduating female medical student in her class. She went on to study General Surgery and Plastic Surgery at her institution of choice: Southern Illinois University, which is also the school of many chairman of plastic surgery - such as several Harvard institutions and many other universities. Furthermore, the 2007 president (Dr. Roxanne Guy) of the ASPS is a graduate from this same program.
Dr. Wu worked as Gould's (Sutter-Health Modesto) only Plastic Surgeon from 2003-2006. She started Surgical Artistry, Inc in 2006 with her husband Dr. Calvin Lee, who is a General Surgeon who previously worked with the McHenry Medical Group. They reside in Modesto, and can be frequently found in their office located next to the post office on Sylvan Ave, Modesto. Dr. Tammy Wu practices plastic surgery, and Dr. Calvin Lee specializes in acupuncture, certain aspects of general surgery such as vein procedures. Visit Dr. Tammy Wu's Plastic Surgery Modesto home page: http://www.surgerytoday.com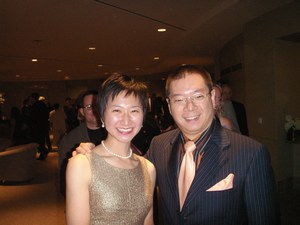 Dr. Tammy Wu and Dr. Calvin Lee (Surgical Artistry, Inc - Plastic Surgery in Modesto)
Picture taken at the Gallo Center for the Arts - Founders Reception, 2007

Some of our Surgical Artistry, Inc web pages:
[Modesto Plastic Surgery with Dr. Tammy Wu] [New to Modesto?] [Modesto General Surgery] [Modesto Veins] [Plastic Surgery Modesto - Ask Dr. Wu]
[Modesto Acupuncture / Alternative Medicine] [Modesto Breast Implant FAQ] [Beyond Nip Tuck] [Docs Play the Pops] [Modesto Botox] [Tummy Tuck Modesto]